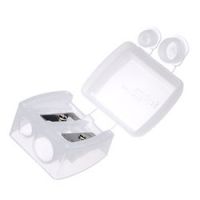 Really Neat

The 2 coverings over the sharpening holes help keep the lid intact & shavings from falling out thru the holes so your makeup bag stays clean. One of the coverings did break off after a few weeks so the quality of the material needs improvement.

:(

umm this is very bad...both sharpeners get clogged upon first use and later will only damage the pencils you try to sharpen. the little lids (both over the openings and used to clean out the sharpener) keep popping open on their own and it's just a messy, annoying, useless sharpener.

Not the Best

I normally love Sephora products, but this one, not so much. It is a strange contraption - designed I think to keep all shavings inside. Which is a good thing, but it does make cleaning it harder. Also, I feel that it eats my pencils away. It is hard to just sharpen a pencil without it breaking off and having to re-sharpen more carefully. Not the best design I've seen, but will work if need be.
Back
to top