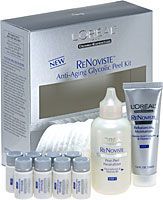 Gentle product w/ noticeable results

It'll depend on your skin-type and what your skin is used to, but with skin adjusted to a retinol serum 4-6 nights a week, I found this to be a gentle at-home peel that nonetheless gives noticeable results. With the exception of a slight tingle the first time, I've had no discomfort or bad reactions even though I usually keep the peel on for at least 15 minutes, sometimes as long as half an hour,...read more twice a week (I did get some flaking when I left it on for half an hour, but it only lasted a few days). This is not an aggressive or "dramatic results" type product and I can't say if it does anything for wrinkles, but after using it my skin is always smoother and my pores less noticeable. There have been times that I've rinsed it off and also felt like my skin was actually lighter and brighter, almost glowy. A nice general maintenance and preventative product. Unfortunately I can't seem to find this product for sale anywhere anymore, not even on the L'oreal website!

It is in my face routine

I bought it to try over a year ago, and it became my face routine staple. I like it a lot. They say, it could have stronger acidic content, but I am fine with this one - do not want extreme redness on my face. I use it 2-3 times a week. I do not use it as written on the box though - I am very cheap to saturate cotton pad with a whole vial of peel, I apply it directly on my finder tips (absolutely ...read moresafe), and the vial lasts for at least 3 procedures. Lately, I bought a kit that does not have those little vials but a bigger bottle - I guess, they became smarter about that as well.

youth in a bottle

This product is a great value for 20 dollars to use in between facials it is smooth and leaves my face youthful looking, more brighter and people notice the difference, I hace had people ask me what product I use, I'm 47 and most people say I look to be about 34! Thank yoy L'oreal!
Back
to top