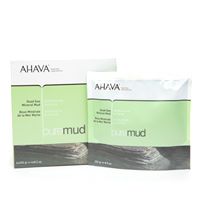 Swear by this! #1 Replenishing

What a great mud for the body. It definitely replenishes moisture on all areas of the body and smoothes the skin. You won't see a MAJOR difference in your skin...like what you get after a scrub, but you WILL see that your skin holds moisture so much better after regular use. It's an overall skin improver, but you have to make time for it. The 1 star off? It's time consuming to use, can stain your ...read moretowels and it's VERY messy to use...You have to wait for it to dry and sometimes that's not that much fun when you are doing it by yourself. BUT, this does give that spa feeling and makes you imagine that you went to the shores of the dead sea to retrieve this gift yourself. It feels so natural and decadent...My biggest tip, if you have time: exfoliate before using and use a great body butter afterwards for a nice spa day. Excellent!!

Same reaction I had with the facial mud mask

Both of these products are the same- they aren't effective. They don't do much for my body and my face, besides the fact that it's fun to use. I noticed zero change in my skin. I love everything else by ahava though, I just don't recommend the mud masks.

Silky Smooth

I love this body treatment! It's the best. I used for the first time and love the results. It left my skin feeling super soft, silky, and smooth. I'd recommend dry brushing your skin for to exfoliate any dead skin surfaces prior to applying the mud. If you choose to warm it up in the microwave, 30 seconds is enough time anything longer and you'll dry out the clay.
Back
to top