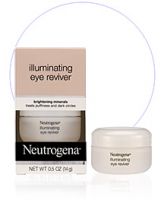 brightens dark circles!

i rarely get more than 5 or 6 hours of sleep a night and my eyes show it =( so i'm always on the lookout for something that can help reduce dark circles and puffiness. this product claims to "instantly give(s) your eyes a well-rested glow and helps to reduce the appearance of dark circles and under-eye puffiness...while conditioning the skin...revitalize your eyes after one use and significa...read morently reduce the appearance of dark circles in just one week!" well, it's been one week...and i'm impressed! this subtly sparkly rich cream is like an illuminator, using "smoke and mirrors" to reflect light in a way to reduce the appearance of dark circles. i could immediately feel it working the first time i used it (i like it when i can feel the slightly tingly/tightening action!) and a week later, i can see a subtle difference. unfortunately it's not so effective in reducing eye puffiness and as rich as the cream is, it's not very moisturizing. oh well, it can't be everything!

Good Product.

This works pretty good. I still need make up to revitalize my eye area, but this works well and is priced well

One of the best!

I t really helped brighten my dark circles.
Back
to top