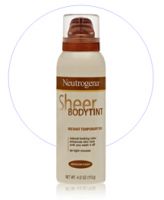 Iffy...

I must admit, I do love this product because I am so pale and it is a great disguise for my pale legs when I wear a jean skirt. However, it is extremely cruicial and wise to consider where you're going while wearing this product. Anywhere where getting the area wet is a possibility probably isn't the best place to wear it seeing as it's not waterproof and it will come off and run if exposed to wat...read moreer. However, I've worn this on my legs out with my friends and I've had no problem with it. Just watch where you decide to wear this product!

Nice Color!

This product is great for a natural looking color, if youre looking for darker color i would not recommend this, but good for light color.

great tan but can be embaressing

I used this product only once. It was to a high school open house. It did make my skin look great. That is until my 2 year old spilled her water in my lap. The water ran down my legs and took the tan with it. I will not be trying this one a second time.
Back
to top