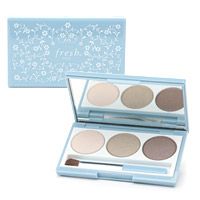 Fresh Eye Shadow Trio
As low as
Nice eye shadow palette for everyday

I just recently bought the Corazon Del Mar palette. The 3 colors in the palette (left to right) are (1) Night Orchid (2) Corazon Del Mar and (3) Amman Black Tea. The Night Orchid is a nice highlighter and has a hint of shimmer. Corazon Del Mar is a interesting blue with gold undertones. Amman Black Tea is a pretty taupe/cool brown. The colors are not very pigmented, which was somewhat of a disappo...read moreintment, but certainly better than drugstore brand eye shadows. Atleast that way you can just add more if you want it to look more intense. The brush that comes with it is not a very good eye shadow brush. Maybe its ok for touch-ups, but that's about it. The compact is small, which is a good thing for taking it with you. The only downside that would make me think about buying it again or other palettes is the price. $32 is pretty steep. If they priced it under $30 it would be much more enticing.

Not bad, but not great

I have this in Mission Fig and Corazon Del Mar and both are nice. The darker colors look fairly pigmented on your skin, and I think they're perfect for everyday looks as they're not shimmery but still make your eyes pop. The lighter colors in both of the trios don't really show up and are just kind of blah though, and I'm not a fan of the brush really. They're convenient since the colors are coor...read moredinated and they're very slim so they don't take up much room at all. So pretty much, they're nothing magical but they're definitely decent.

Too sheer...

I have this palette in "Enchanted," and in the box, the colors look beautiful. However, they are extremely sheer, and prone to creasing if you try to add more. Also, the brush that comes with it is terrible.
Back
to top