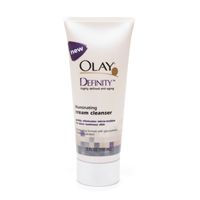 Not very illuminating

I used this several times while staying at my mum's house because I forgot my beloved Clinique cleanser and din't feel like going out and buying a new one when I was only going to be staying for three days. Anyways I found that this wasn't very hydrating or illuminating but that might just be because I'm only 21 and I have zero wrinkles. My skin did feel clean but thats about all this cleanser did...read more for me. I didn't really expect much though because I've always been disapointed by the poor performance of Olay products. One things I did like about this though wa the cool packaging with the twisty cap.

Mineral Oil? Ew. Not worth the $$.

Creamy, yes. Dreamy, no. This does not lather, has teensy gentle exfoliating beads, a strange strong scent. On the days I use this, I feel like there is a film leftover on my skin. Not good. I am completely turned off by the fact that this has Mineral Oil in it. No thank you. I have not broken out since using this, but my skin has not gotten any clearer or more "illuminated", either. I d...read moreo like the fact that the creaminess of this doesn't make my skin feel tight, but yet again I feel like that might be because I feel a film. In my opinion, this would be great for those who have dry skin, need gentle exfoliation, no breakouts, and who are not concerned about anti-aging or anti-oxidants or visible results. Bottom line - this was very middle of the road for me. And again, Mineral Oil? Eww.

GLOWING!

This product is hands down fantastic. I was hesitant to buy another face wash since most dry me out. I decided that I would just purchase a drug store brand that was inexpensive and therefore wouldn't be regrettable purchase. From the first day, this product did not disappoint. Immediate results left me wanting to buy every product in the line! Small beads exfoliate while the super creamy texture ...read moreleaves my skin feeling hydrated without unwanted shine. Only a small amount is needed so I know I will have it for along time. This face wash has spoiled me. I do not want to go a day without it. My makeup has never looked better and my skin is looking flawless. AWESOME!!
Back
to top