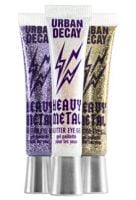 This is definitely not for older women.

If you use it and you're over 55, the glitter make you eys look crepy and old. It draws attention in the wrong way. I was advised by an aesthetician to stay away from glittery shadows and/or glitter gel.

glitterama

If you love glitter, you will love this gel. It's awesome and stays on very well! No flaking and no ending-up-with-glitter-on-your-cheeks..

Must Love Glitter

This stuff is really glittery but it stays on really well. I used the white color, so I could wear it during the day. No complaints here. Just use it with a light hand.
Back
to top