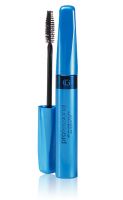 Okay-ish Mascara

I have tried everything with hype: Lancome, Tarte, Buxom, etc. I look for a mascara's ability to hold a curl, because it seems as though most do the exact opposite. This stuff holds a curl, is not clumpy at all, does not flake or smear, and it stays in water excellent. I get complimented on my lashes all the time. Best and most reasonably priced waterproof one that I have tried to date. Waterproof...read more means waterproof to these folks. I just wash my face in the shower to remove it . In DC and Atlanta the heat and humidity can really do a number on your makeup. You can have a bad allergy day or an all out cry with a sad movie and never have to worry about the raccoon brigade showing up . I pair this with my HG Rimmell 25 hour long wear in true ivory 103 great red face coverage for hot days ...was using loreal Infallable but so drying and poor shade match.... and my HG Revlon color stay brown eye pencil in brown use it for liner , shadow even eye brows....You can go all day rain, shine intense workout etc... My skin is dry not oily or combo if that matters) As with most mascara , wipe some of it off on tissue .If you get a little mess you can always do the old Q tip in makeup base for a quick clean up . As a perspective on my makeup habits , 30 years of wearing makeup clinique, estee lauder, Lancome, etc. and I find that I am just as happy with my cheap little finds. This mascara can get really clumpy and stick your lashes together if you don't wipe off the wand before applying. Unfortunately, once you do that, the mascara becomes very natural. Not always a bad thing though. Holds a curl, is pretty waterproof, very decent, but definitely not perfect. I wanted a cheaper mascara that would get me through a week long trip, so I picked up this for $4. Usually I buy Maybelline Volumous One by One or Full n Soft since I like to go for a natual look. This mascara leaves my lashes more stiff than my normal Full n Soft, but it offers WAY better length. And it's not as painful to remove as CG's Lash Blast!! No smudging, but I haven't tried swimming in it yet (I will be so dissapointed if it runs all over!). It's much, much better than it's sister-in-cheapness, Maybelline's Great Lash Waterproof. It's not expensive at all...even at full price it was 6 bucks. It goes on easily, smoothly and does not glop at all. It doesn't take the curl out of my pre-curled lashes either and will also hold an eyelash curler curl for most of the day. It did not smear until I rubbed my eyes at the end of the day and I've been in rain, humid weather and worn it during an active day. It does not make your lashes brittle and it comes off easily with soap and water. However I do get a couple flakes but nothing I can't whisk away. It thickens my lashes, separates them and lengthens them. It could be better, yes, but as an overall mascara it's wonderful! I don't have any gripes about it other than the brush. And for 4 dollars, I'm in love! ALTHOUGH, I have to say that this mascara seems to only work best on those who already have decent or good lashes to begin with. If you have sparse, short, thin lashes, you probably won't get any benefit from using this.

no difference

I can't see a difference between my regular lashes and my mascaraed lashes. I like that they offer different shades and it is waterproof, but there is no point in a mascara that does nothing for your lashes.

Not Impressed

I have tried to find a covergirl mascara that I like. I see many positive reviews for this drugstore staple, yet my search continues. I bought this product and it was very inexpensive but not very impressive. I thought the product was watery and it really did not do much for my lashes. Mascara is one of my most important beauty staples but this one is not the one for me.
Back
to top