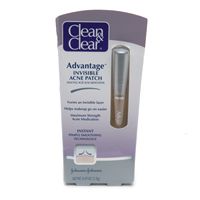 Nope

Not something I would buy again. It didn't do anything...

This didn't work for me

This really did nothing for my acne at all.

Exclusively from the editors at Total Beauty

Get the Buying Guide to see these top-rated products!

Get it now »

...Stuff's okay if you know how to use it.

I find this product is best for those round, spherical underground zits that can be so hard to conceal because of their shape-makeup just slides off 'em and gathers at the base of the zit. Many reviewers have complained that the patch seperates from their skin and peels off, that is most likely due to the fact that they were applying it to an area of their face that moves around alot during the d...read moreay (such as around the chin and the lower cheek area) due to things like eating and talking. Therefore, it is best to apply this product to an area of the face that doesn't move around a ton (such as the forehead or the temples). Reviewers also complained of the product flaking off when they tried to apply makeup on top it. This will happen if you use your fingers to do so. Don't use your finger to try to apply makeup on top. It won't work and you'll end up with the flaking result. Use a small, soft makeup brush instead! Preferably one that comes to a bit of a point at the end for more concentrated application. Still, working with this product isn't easy and it takes some practice to manouver. One more thing, I didn't find that this had any healing properties for any of my breakouts, but Clean and Clear and brands of their ilk never do. I need more powerful stuff.
Back
to top