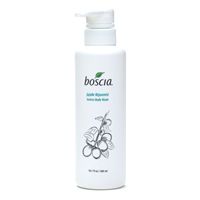 Smells great

And has decent body benefits. Gave it a 5 because I'm still in the search of a great body line and its pricey. Follow me on Twitter: BCmakeup Blogspot: The Lady Grind BC Makeup Artistry-St. Louis

Very Nice

This is a great body wash. It's foams up nice and leaves your skin feeling soft, clean, comfortable, and well rejuvinated lol. It's not that pricey and you do get alot of product for the money. My bottle lasted like 5 or 6 months.

21 Best Soaps

Exclusively from the editors at Total Beauty

Get the Buying Guide to see these top-rated products!

Get it now »

great head to toe wash :D

i love this as a head to toe hair and body shampoo...i have extremely sensitive skin and shampoos wreck havoc on my scalp and skin (i have long hair and shampoo tends to run all over when i wash my hair...this takes care of that problem, it's completely sulfate and irritant-free, so i don't freak out when it gets all over...boscia stuff tends to smell amazing even tho they don't use synthetic fragrance, and this one is no different...so yummy i can eat it!
Back
to top