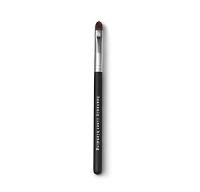 ABSOLUTELY FABULOUS!

I love this brush and literally can't say one bad thing about it! Because of the shape of the bristles, it really is great for blending liner into your lashline, especially when creating the smoky eye look. I haven't had any problems with this brush "shedding" and I've had it for over 2 years now. And even though it goes for $18, it is money well spent!

Bare Escentuals Heavenly Eyeliner Blending Brush

Wonderful brush. I have this and the regular eye lining brush. The regular eye lining brush is great for your thin wet eye line look, but this brush is for when you want a little thicker line or when you are creating that smokey eye. It really gets the color into your lash line. It just works wonderfully without a lot of struggling or hassle. Really glad that I have this brush in my arsenal. ...read moreThe quality is outstanding. I have never had any problems with any Bare Escentual brushes that I have received in kits or bought out right. Again, would not want to be without this product. Mo911

Nice brush

A little costly but has held up well. Can be used for a multiply uses.
Back
to top