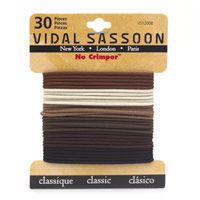 Easy to use

I've used these on my daughter and she didn't complain at all. Usually hair elastics are just too rough for her but she handled these easily. And they were cheap at a local store! If you're frugal, you'll love 'em.

Holds well

Great color selection. No mental clasp. Fantastic for thick hair. Cheap price holds hair in place well.

elastics

This product is great i have thick hair so sometimes the elastics bust but this item doesnt it holds great.