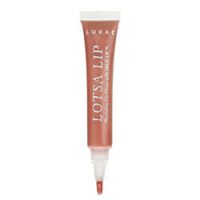 LORAC Lotsa Lip Plumping Lip Gloss
As low as
its ok if you dont really want to purchase a gloss

these lip glosses very much suffer from "40-something divorcee vacationing in san tropez" syndrome. way too much gold and shimmer in all of these. i thought i had picked the least shimmery, but it was a trick of the light. when you pair a dense, dry gloss with dense amounts of gold and shimmer, its just not attractive. personally, lipstick never stays on me and in place for very long, so...read more i avoid it. i stick with sheer to medium glosses so i dont have to worry about where the color is sliding or if its smudged, and so i dont have to apply it with a mirror (i need moisture on my lips constantly). i prefer glosses to chapstick because i tend to look washed out without a little bit of color on the lip. her glosses totally defeat the purpose - the upkeep is closer to a lip stick than a gloss. it reminds me of a $2 wet and wild gloss that my mom used to wear with a super dark lip penciled outline. in fact, i was about to return this, but since i owed my mother a favor, i just gave this to her.

Precision in a lipgloss?

Most lipglosses are not precise. The attached lip brush gives a more accurate coverage. The constency and shine are not overbearing. Good color selection. Excellent product.
Back
to top