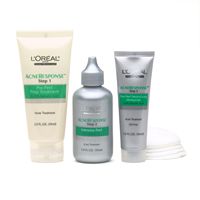 Wonderful results

I love this combination treatment. The wash is gentle, the treatment is a little abrasive but it lets you know it's working, and the final step is very soothing on the skin. The chemical smell of the treatment is disgusting, but it works so I'll deal with it for 5 minutes to keep the results up. I saw results on the 2nd use, but after the first my skin felt like it was starting to get better. My skin was smoother and had a nice glow. Highly recommended.

Worked at First

I use this twice a week. At the beginning, it worked wonders. It cleared my ance, shrunk my pores and evened tone. After two months of using, the results became less and less noticable. I even leave on the treatment all night now, rather than for just ten minutes. I bought another box, but think I will take a one month break between treatments so my skin can readjust.

Exclusively from the editors at Total Beauty

Get the Buying Guide to see these top-rated products!

Get it now »

Great Product

I am African- American and have hyperpigmentation. This product controls my acne breakouts and has faded my older acne scars! It is gentle enough that my skin does not dry out from use. I just wish the lotion came in a full size bottle. It is the best part I use before I put on foundation as well. It is great and worth price! I am a cheap, I mean real cheap, and I do not mind parting with my money for this product! lol.
Back
to top