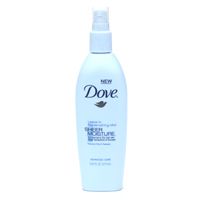 Makes hair amazingly soft!

I've been looking for this product for ages ever since I saw all the amazing reviews on it! Finally finally, I found it at Safeway and just had to buy it. And it did not disappoint! Though I never really have problems with static in my hair, it does in fact make my hair UBER soft. It is also a wonderful detangler! This morning when I took my hair out from my towel after I got out of the shower, as...read more always, it was super tangly. And I hate having to comb it out when its wet and causing hair to fall out. So today, I sprayed some in and a few seconds later when I ran a brush through it, there were barely any tangles! So basically, it detangles, softens, and just makes hair look healthy in general! What's not to love about it?

Great Product

I have fine and dry hair. Dove Sheer Moisture Replenishing Mist is light and makes my hair shine without making my hair droop. Problem: Hard to find. To be sure I have some on hand at all times, I would buy by the case if I can only find.

so moist!

you know when you can feel that your hair is dry and there's nothing you can do about it?? this product works wonders!! just spray in your hair wet or dry and you will have the softest most moist hair ever!!
Back
to top