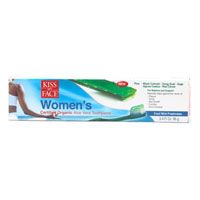 Works to make mouth clean!

This toothpaste works to make mouth clean and it is important to have fresh breath so this kills bad breath.

I like it !!

Kiss my face made me roll my eyes with "Women's " toothpaste, but I bought it anyway. I like it a considerable amount more that I expecsted.. I love the natural ingredients and the fact that there are no animal products. I'll buy it agaion because the price is good and it was great about making my mouth feel clean.

Worth Every Cent

When i saw the price for the product i was somewhat hesitant to purchase it. However kiss my face products have always been well worth the money in my past. The first time using this particular product was great for lack of a better term. It left my mouth feeling clean and fresh and when you've got a boyfriend like mine that's a very important thing. This product is great and i will continue using it in the future it is worth every cent if not more.
Back
to top