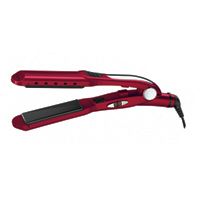 melts!

this iron does dry hair, but the handel heats up so bad that the sealing began to get slushy and it started sticking to my finger. dont get this!

Drys your hair!

At first my hair looked really great! It was pin straight and very smooth. After a while it dryed out my hair and gave my split ends (even when i used a protectent spray). The handle gets really hot and burns your hand after a while. also the comb in the middle ripps out your hair.

Using this is a pain in the tush

my hair gets stuck in it, it doesnt stay hot, doesnt grip hair. it makes my hair break and frizzes it out. Most importantly, it doesnt even straighten, my curly hair was wavy at best after using this for like an hour.