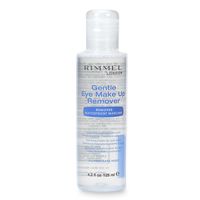 Gentle Cleanser

I really like this eye makeup remover because it is soft on my skin and removes eye shadow in one swoop. It is great even for long lasting mascara and adds moisture to my skin. My skin doesn't feel dry after using, and it is perfect for cleansing my skin after a long day.

Not oily

Usually when you buy a "gentle" make-up remover, it is also oily. This product, not so much. It takes off the make up and even the waterproof liners and mascaras. It doesn't burn the eyes like some of the other removers. For the price, it's not too bad either.

Good Price, Potentially Irritating

I've always heard good things about Rimmel, but I find it odd why this was the first product I decided to try. I guess maybe I was drawn in by my need for makeup remover, the low price tag, and the simple packaging? Anyways, I've been using this for almost six months now, so I figured that it was time to review. I think that the price point is fantastic and the flip-top packaging is sturdy ($3 or ...read moresomething around that), but those are the only things I was impressed by. This makeup remover eventually does what it says, but it takes a lot of effort and product for me to get my makeup off, especially my waterproof mascara. After I use this, I wash my face, and after I wash my face I have raccoon eyes because not all of my mascara got taken off. Also, this makeup remover is supposed to be gentle on the eyes. It's nice that it has no fragrance, but honestly I still felt some stinging and saw redness after using this. From reading the label, it can understand. There's a very large amount of isopropyl alcohol and methylisothiazolinone, which can irritate sensitive eyes, such as mine. Overall, after I finish the bottle (or I might end up giving it away), I won't be repurchasing. Even though they're a bit more expensive, I'll probably stick with my trusty old Maybelline Flash Clean makeup remover, or the Neutrogena remover wipes. However, I won't be dissuaded from trying other Rimmel products!
Back
to top