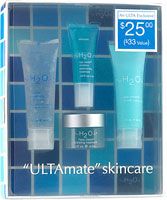 H2O+ An ULTA Exclusive! ULTAmate Skincare Set ($33 Value)
As low as
Love This ..BUT

I couldn't find the "Ultimate OASIS Gift Collection"...so I thought I'd comment on this . Plus add about the other. This set is great to start out with if you have never tried H20. The price is great. The other product I am talking about ..you get.. Face Oasisâ"¢ Cleansing Water Face Oasisâ"¢ Hydrating Treatment Oasis24 Hydrating Booster Eye Oasisâ"¢ Moisture Replenishing T...read morereatment Night Oasisâ"¢ Oxygenating Rejuvenator Due to the recent economic down turn, and the loss of my job. I had to scale back spending. I had been buying drugstore brand of skincare products. I developed rashes, had many breakouts, and was just having too many issues. I recently decided that I would splurge and buy my old H20 plus favorite. I was having some major issues with dry skin patches on my forehead & face .The drugstore products was not relieving this. But after only two uses since this arrived. My skin is already breathing a sigh of relief. Thank You so much H20 Plus. I have learned, it doesn't matter what's going on. My skin knows what's good for it. Go to the H20 Plus and you will find it. It's a great set to beat the winter skin dryness.

clean and refreshing

i fould this gift set to be one of the best. if clean very well, with a good moisturizing gel and a face mask. it has everything you need.
Back
to top