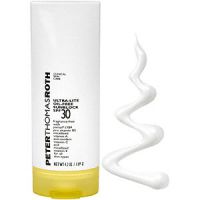 My daily sunscreen of choice

This is probably the lightest sunscreen I've ever tried with a moderately high SPF. If you have normal to oily skin, you may not even need moisturizer underneath because it's lightly moisturizing. The white cast is very minimal, and the lightness makes it ideal for reapplying throughout the day if you're out in the sun for a long time. Compared to other high-end sunblocks, it's also the least expe...read morensive, and you get a whopping 4 oz. I've tried the uber-dry version, but it reminds me of Neutrogena Ultra Sheer Dry Touch, which flakes.

Best face suncreen I've tried so far...

I've tried a zillion face sunscreens and keep coming back to Peter Thomas Roth. Their formula is light and doesn't make me break out. My secret is patting (not rubbing) it into your face and letting the suncreen fully sink in before you apply any makeup. I've tried DDF Matte Finish (which flakes) and Lancome (too sticky, heavy, and leaves the horrible white film). Neutrogena is ok, but somehow fee...read morels a bit too dry for my skin. If I have the extra $$'s I'll always slurge for Peter Thomas Roth!

NOT GOOD FOR OILY SKIN ...Not that light, and very expensive!

I don't know if it the sunblock of my oily skin, but I put on the product with supper dry skin after I washed it and used a drying toner and after half an hour max my skin is super oily and heavy. So far it is the lightest sunblock I have tried but it is not good enough for me. So I'll say keep looking for a better one. Plus is it very expensive.
Back
to top