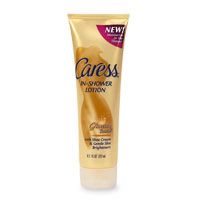 Editor's Rating & Review
Filled with hydrating glycerin and soybean oil, this lightweight moisturizer goes on in the shower -- a time-saver -- and softens skin without too much post-rinse residue. Normal to oily skin will see the shea butter's "glowing touch," while deeply parched skin will need to follow up after showering with a traditional lotion -- an added step to your routine that may not be worth it. Caution: the lid tends to collect water.
Reviewed by Kristen on 09/21/2007

How we review products
sweet smell

great summertime moisturiser, too light for winter on its own. i was expecting more sparkles or shimmers tho, its reallly subtle! fun to put it on myself still in the shower tho, i would do it just for that!

Caress

Feels wonderful in the shower, but the disappointment is drying off the Moisturizer! I still need a lotion on my body. And yes, normally I have "oily" skin!

Leaves your skin radiant, glowing & silky smooth...

I love this product! It's a refreshment for your skin, it leaves your skin silky, smooth, glowing and radiant! You will feel absolutely fresh & sexy with this.
Back
to top