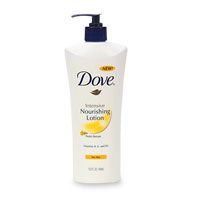 good

I don't like this nearly as much as other Dove products but it works wonders on parched skin, my boyfriend even uses it for himself. I like to have this hady if I need a good hand cream, it locks moisture in for a good length of time, especially after doing dishes.

moisturizing

just like any other dove product, this lotion does the trick! it moisturizes very well. perfect for everday. and cheap too!

Intensive Moisturizer

So what on your bedside table? For me it is Dove Intensive Nourishing Lotion. I was pleasantly surprised, this lotion smells great and it dries quickly, but leaves your skin feeling soft. I do use other lotions throughout the day, but before I head to bed Dove Intensive Nourishing Lotion is what I later on my hands, legs, and feet before climbing into bed. This lotion not only moisturizes but imp...read moreroves your skins texture and skin tone. If you struggle with dry skin, they do have an extra dry skin advance formula. I have been very happy with this product, it reminds me of the feel of baby cream I use to lather all over my baby.
Back
to top