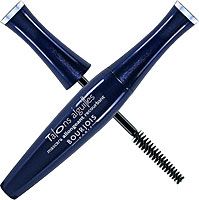 Bourjois Talons Aiguilles Mascara
As low as
Bourjois Talons Aiguilles Mascara

I really like Bourjois cosmetics, I adore the eye shadows, and I read a few reviews of this mascara and I decided to get it to try it out. I was pleasantly surprised! I really like it. The brush is great, it is long, and it really helped with my application. It seemed to get every lash, but the brush isn't so big I got spots on my upper or lower eye lids. It really made my lashes look so much...read more denser, and it emphasized the length very nicely. It held a curl, and it didn't flake, smudge, or smear after hours of wear. I really like the intense black color, it is rather striking and makes my eyes pop. It's claims of lengthening and curling were very true for me, I was very happy with the results I receive when I use it, and I have been using it quite a bit lately. It doesn't seem to dry my lashes out or make them brittle, I have noticed no breaking as I have with other mascaras, and it comes off really easy with any eye makeup remover, you don't have to pull or tug the delicate eye area to get it off.

bourjois talons aiguilles mascara

i've worked as a professional makeup artist on and off for several years, and due to this i'm often given samples of products i'd never have bought on my own. generally speaking, i don't pay much attention to makeup brands. i splurge on quality skincare and base, and go for cheap-but-not-nasty pigments, liners and mascaras. (after all, as long as they look good and don't do any damage to your skin...read more/eyes/etc, there's not a mountain of difference between $5 and $50 eyeshadow.) that said, this is my absolute favourite mascara of all time. i've used countless others- cheap, ridiculously expensive, and everywhere in between- and as long as they didn't clump, run or flake off they were fine. never really gave them much thought. and then someone gave me a tube of this, and i realized that there could, indeed, be a noticeable difference. this mascara is designed to 'lengthen' lashes, NOT to volumize (so it's not full of fibres and fillers designed to stick between your lashes, making them seem fuller.) it went on super smooth, did not make any of my lashes stick together, and darkened all the way to the tips of my lashes on the first stroke. in fact, it functioned exactly like every mascara commercial i've ever seen CLAIMED to function- like it was giving a nice coat of paint to each individual lash. it stayed on all day (and all night, too, sometimes,) and it never gave me raccoon eyes, and then came off easily with just face-wash. the best part was that, because it didn't make my lashes stick together, it usually looked like i wasn't wearing mascara at all- just blessed with awesome lashes. and it was like $13, which is expensive compared to Great Lash but pretty dang cheap for designer cosmetics. and THEN it became freaking impossible to find in the US. i've tried other bourjois mascaras, and while they have their own merits none of them really stood up to this one. you can still find it online, occasionally, but at this point i'm worried about the age of the product. bourjois makes nice product, and this was the best of them all.
Back
to top