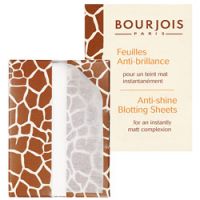 Editor's Rating & Review
If you have combo or oily skin, anything that "blots" is an easy sell. These powder-less, tissue paper sheets come in a cute giraffe print envelope, which makes them even more enticing. The tiny package fits anywhere -- a pocket, wallet or evening clutch. They do tend to take off a bit of makeup with each blot, which is a bit of a bummer, but a shine-free complexion that doesn't look makeup-caked is a good consolation prize.
Reviewed by Kristen on 10/04/2007

How we review products
Bourjois

Works well

Decent

This product is a little on the expensive side...but it's like they always say...you get what you pay for. I personally think they are better and more effective than any of the cheaper versions I have tried and being an oily skin sufferer in Oklahoma humidity believe me I have tried a LOT! So mad props to BOURJOIS!

great product

These little sheets freshen up your face without taking off your make-up. Truly work.
Back
to top