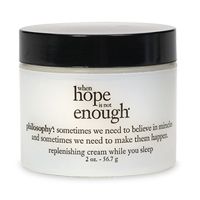 Not for me

Hearing so many good things about Hope in a Jar from Philosophy I purchased this as a night cream, since I already have a daytime moisturizer with SPF that I love. I was so terribly disappointed with this. It does not feel good going onto my skin after cleansing at night. The smell was unpleasant (though not too strong, thankfully) and the consistency was odd. It felt like it was just sittin...read moreg on top of skin not doing anything. After using this I would wake up to a terribly oily face with clumps of white residue. It was so bad it required me to do an extra cleanse just to get the junk off my face. This one product completely puts me off the entire Philosophy skin care line.

just ok

this cream was ok but i didn't notice any difference with my skin

Very silky and smooth !

I compared this product to the intensive night hope in a jar moisturizer and i found this to be a lot better because it went on my skin nice and smooth making my skin feel silky. I felt like it was just enough moisturizer for my skin with out over doing it. It was not to thick or too thin when applying it . When a moisturizer is too thick it tends to make me break out so that is why i really liked...read more this product . You do not need much at all either , a little bit goes a long way with this moisturizer. The price is a good deal . I usually buy the travel size as i go because the travel size will last me for usually about two moths or so. I use it underneath my make up as well and i have not had a problem with it looking too caked up or unnatural at all. so that was a big plus for me because i like to use moisturizer under my make up for protection against the suns rays . I also used this at night too but find i like it better during the day because it hydrates my skin while im going threw my day. I have dry combination skin so i need a good moisturizer. I do highly recommend this especially for those who like light moisturizers but that can give you a really nice moisture to your skin. The fact that it comes in travel size was a miracle to me because i usually can not afford the actual full size. I found that to be a huge bonus for those who can not afford it either because you are still getting a really great product but on a level you can afford and like i said it really does last especially if you use it sparingly to your advantage. The texture is like a gel based moisturizer and I even grew accustomed to the smell which seems to have not that strong of a scent which I like . Within minutes I felt like my face felt refreshed, and I felt like it gave me a nice clean feeling still .... I currently make this my every day and night staple in my regime. However, I've been using clean & clears moisture gel and just using hope when I need a little boost.  I have been getting compliments regarding my skin having a glow. Sometimes I mix the Hope in a Jar with my liquid foundation during the day and it gives me a dewy, glowing complexion which I like so I can switch it up every now and then. I wished I had tried this years ago. It will be a permanent part of my skin treatment regimen and you should too. Overall, I am defiantly rating this a ten because as I said it really is a good price and it does a really good job at what it says it does. A lot products really can not offer this so I was a bit surprised how nicely this product disbeliever actual results.
Back
to top