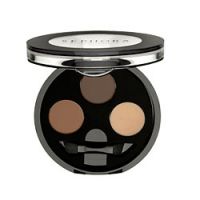 Sephora Eyebrow Palette
As low as
I Love this PRODUCT!!

I absolutely love this product. I bought it over 3 yrs ago and the brown powder last long. Now Sephoras changed the it to a square compact and in a bag with clear gel mascara brush. The kit is still good, but there is only 2 colors. A dark brown and light beigh, but it's actually really good and waxy. The dark brown goes on very light so it's a universal color that can be darkened by adding more or a little color with a pencil. For the price I really Love this!

If Only It Came with Instructions!

I have no idea what to do with this set. I don't see any real difference but haven't given up yet.

Long lasting!

When the two colors are blended together, it matched my brows perfectly. I still use it now and I bought it last year!