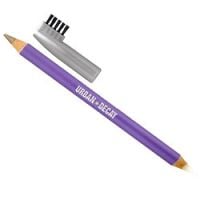 Urban Decay Brow Beater
As low as
Not for my needs

I tried really hard to like this! At the end of the day, my eyebrows just do better with powder. All I need is to fill in the space from where my eyebrow ends to where it should end, because the hair is very sparse there. Just need to make it look more dense. Powder adheres better than pencil to those little hairs. I do like the little brush this comes with, but sorry to say that I just do a lot b...read moreetter with powder than pencil. At the same time, it really is a good product. If you need to darken your brows, define them, or keep them in place, this is the pick for you. It really does a great job for those things.

Good Brow Color and Control

I'm a dark blonde and am able to use the blonde and brunette version of this brow pencil. I like the smooth texture of the pencil and the control the wax end provides...I never considered using wax until I tried this product and it works great!

Quick and easy application, reasonable results

I have a feeling there are probably products which will produce a more 'perfect' brow, and certainly there are ones with a wider range of colors. However, I'm lazy and tend to be in a hurry when I apply make up, and I like my products to be easily portable for travel, so this fits the bill perfectly. I can toss it into the outside pocket of a bag and apply it even in the tiny and poorly lit enviro...read morenment of an airplane bathroom. I have pale skin and dark brown/black eyebrows, (with blond hair) so I wanted a product which would fill in my brows a little without being overly harsh or fake looking, and for that, this works well. I do a few light feathery strokes to each brow with the colored end, then apply a bit from the waxy end and use the brush on the cap to smooth my brows out and make them behave. I get neat and tidy brows with minimal fuss.