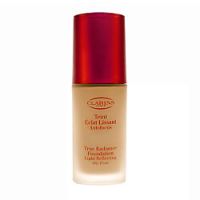 Fantastic!!

I love this foundation. Have tried loads over the years, but this one is great, really light, doesnt go cakey, and gives a healthy glow without being too shimmery. really good for day time, although i usually switch to a heavier one like estee lauder double wear for going out as i feel true radiance is just a wee bit too light for the evening. You do need to use concealer for blemishes ans stopt though - thas why i only gave it 9 stars....picky, i know!

Raving for Red

This foundation is a great deal!

looking for a perfect glow

Clarins true radiance has changed my aperance for the best. I look so alive.. If you have not tried this product and are tired of caked unbecoming look.. to light to dark this is the product to use.. I LOVE IT.. my face finaly glows thanks to Clarins.. Try it you have nothing to lose and a glowing face to gain.. Beverly Morse from SC.