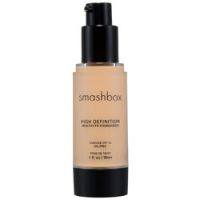 I like it! Great for Mature skin!

The last couple years I haven't been the biggest Smashbox fan; as a matter of fact it was one of my least favorite Prestige brands. However, the last several months I have started to give Smashbox another chance and so far I am enjoying many of the products! I think the reason I didn't like it was because my skin was in a very bad place and even though it has taken YEARS of consistent skin care ef...read moreforts, my skin is now becoming tolerable. Smashbox has two liquid foundation types; Healthy FX and Studio Skin. Healthy FX claims to make your skin healthy from the inside and out with Vitamin C which not only brightens your skin, but also fights against free radical damage. Also, Vitamin C helps revitalize collagen and elastin production in your skin. Also, it's formulated with Ribose to "renew" the appearance of skin. Essentially, this foundation provides anti-aging and preventative benefits for your skin. This is supposed to make your skin look healthier, but also provide some hydrating and firming benefits which is GREAT for mature skin. This isn't my usual go-to foundation so I haven't used it enough to see any anti-aging benefits, but also I'm young so I'm not going to see anything anyways. This foundation is a little bit lighter in coverage, but it is easy to build if you need more coverage in come areas, but it doesn't look cakey in areas that I apply more of the foundation. I also like how this is hydrating because I have VERY dry skin and rosacea, but I also live in Arizona which is consistently dry year-round. Since it IS hydrating and it has moisture particles, it does leave a more natural-to-dewy finish on your skin. Personally, I LOVE the finish, but I can understand if some people who are more oil-prone would not like the finish because it makes it look like shine. This is a great, lightweight foundation that can be used beneath a powder foundation to set, alter the color and add more coverage. This foundation also has SPF 15 too, but do not hesitate to use additional sun protection! You always want to supplement it with sunscreen in case you rub off the makeup. Things that I do NOT like; First, the formula tends to unsettle. If you're using a tester at a store, you may have noticed how older testers tend to squirt out water unless you shake them well, so make sure to shake the bottle every now and then. It takes several squirts for the foundation to return to its expected consistency. Another thing I personally don't mind, but other people may not like, is that the shades tend to run yellow. I like that it's yellow, but not TOO yellow, like typically found in olive undertone foundation. It fits ME well (my shade is L3), but for people who are more neutral or cooler, this may not work for you because this foundation is definitely more yellow-toned, especially when it gets darker. Generally, I like the way this foundation looks on ME, it works well with MY skin. It may not be for everyone, but I enjoy how this foundation makes my skin feel comfortable because it is lightweight and hydrating with added benefits. I may consider using this a few more times in the form of a sample, prior to committing and buying a bottle. But so far, Smashbox has regained my attention, and so far I am enjoying my rediscovery and re-experimenting of their products.

Great Foundation

I really love this foundation because it feels light and blends well with my natural skin color. I love that it has SPF so I don't have to use more moisturizer and this doesn't dry my skin. It is great for coverage and lasts a long time.

Not for me

This foundation did not provide the amount of coverage I need. By the time it covered, it felt thick. I like the finish, but not the coverage.