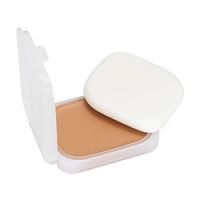 Best Foundation For Me, Ever!

This make-up is my favorite, to wear every day. It totally balances and evens out my skin tone, and also hides any discoloration. I love the fact that I don't have to touch it up, and my combination skin stays nice and even. It's suitable for every day use, and I even wore it in my best friend's wedding - buildable coverage. Love it!

Gives a great even complextion coverage

Every time I wear this cream foundation people at work always tell me my skin looks great. I switch on and of between other liquid and powder foundation and when I wear this one that always make positive comments . My best friend who is a gay male even told me wow you skin looks really good what did you put on it...So that a really good sigh coming from a gay man. I have it a 9 because the sponge ...read moregets really dirty/nasty/dingy after a while so I always replace it they run at about 2 bucks at the clinique counter . I recommend this to any person who has skin on the drier side or oily side this really does balance out the dryness and oily ness good foundation I say.

Awesome!

I have sensitive oily breakout prone skin. I bought this hoping I wouldn't have to touch up my makeup every few hrs because of the oil, and it worked! Blends nicely with the sponge but even better with Clinique's foundation brush looks natural and basically touch-up free.