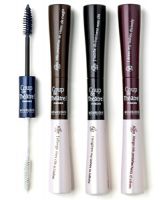 Overall A Good Mascara

I bought this mascara on a whim because it looked interesting and I have to say I'm rather pleased with my purchase. While it doesn't give the same effect false eyelashes would it still gave good results. My lashes were defined and it resisted smudging and flaking. A tip I'd give is to apply the primer (white) in a long, smooth stroke and do not use double coats of it. Short quick strokes can clum...read morep and using more than one coat can make lashes look stiff with less separation. I also suggest doing applying it by giving a light coat of primer on top lashes, let dry a few seconds (otherwise the primer can mix too readily with the mascara and clump), apply mascara and then coat bottom lashes with primer and reapeat above step. Coating the bottom lashes with primer is something you may or may not want to do depending on your style. While I might not purchase this mascara as my regular one, I still think of it as a good product and I would buy it again.

Bourjois Coup de theatre Mascara

Have been using for 10 years, get it at Ulta, but they don't have it at this Ulta. My eyelashes seemed to have grown with using it and when I've stopped because I couldn't find it, they fall out. Sometimes the primer glops, but after reading here, will let it dry before adding mascara and anyway the glops are not bad and easy to get rid of. It also lasts a long time. It's the only mascara that doesn't come down on my under-eyes bags.

getting my flirt on

I love this mascara...having the primer and the mascara together is convenient and a money saver. I am a mascara whore and have dated my share of mascaras, but I have been brand loyal to this mascara for about two years. It can glop alittle but nothing that can't be easily combed out with a good(read metal) mascara comb.
Back
to top