"Shape" Magazine Editor Apologizes for LeAnn Rimes' Cover, Calls Her a "Husband-Stealer"
Posted on October 29, 2010, 2:09 PM
Then she apologized for calling Rimes a "husband-stealer" as a response to Rimes' confused tweet in consideration of the "Shape" party being thrown for the country singer this week.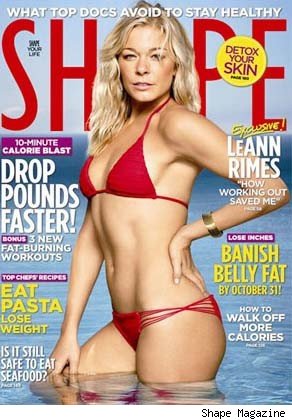 Photo Courtesy of: Shape Magazine
Since it's been nearly a decade since her last hit "Can't Fight the Moonlight," LeAnn Rimes very well could have dissolved into the "Has-Been's" of Hollywood if she hadn't embarked on an illicit affair. Featured on "Shape" magazine's October cover in a bikini, Rimes told the story of why she cheated on her now ex-husband Dean Sheremet and how her new man, Eddie Cibrian (whom she met while filming a made-for-tv-movie) was her life-saver through the affair. Too bad he was married at the time too.
In the interview, Rimes tells "Shape," "My relationship with Dean was great, but ultimately it wasn't a fulfilling marriage for either of us. I understand why people are disappointed in me, especially since I grew up as America's sweetheart."
The cover headlined the feature story with a gracious title, "How Working Out Saved Me," turning Rimes into a victim.
Readers' fiery backlash to the magazine's benevolent interview with the two-time cheater caused "Shape's" editor-in-chief, Valerie Latona to issue an apology.
"You are all in good company" Latona began in a mass email to subscribers, "as you all agree Shape has made a terrible mistake in putting LeAnn Rimes on the cover," she began.
"Please know that our putting her on the cover was not meant to put a husband-stealer on a pedestal-but to show (through her story) how we all are human. And this woman in particular found strength in exercise in what she said was her most difficult personal moment."
"But it did not come across that way ... And for that I'm terribly sorry. I hope that we can do better the next time for those of you that will give us another chance."
The humiliating cover retraction and public branding of Rimes as a "husband-stealer" wasn't the end of their Trip Down Cheating Lane, as last night shortly after midnight Cibrian's ex-wife, Brandi Glanville was taken into custody for drunk driving.
Cibrian and Glanville filed for divorce in July 2009 after she found out about her husband's affair.
Rimes says she's happy now living with boyfriend Cibrian. And while she is certainly receiving much negative press, her
body
looks phenomenal on the cover. Any publicity is good publicity, right?
Maybe not. While the editor-in-chief's mass email retraction of LeAnn Rimes' cover was supposed to be "private," it was anything but causing Rimes to tweet: "Shape is throwing me a party next week as a thank you and a congrats for being on their cover for the 3rd time. I find this very contradictory."
We do too, LeAnn. This tweet forced Editor Latona to write yet another public apology. This time, she defended her choice of words saying they weren't hers but her angry readers.
In this excerpt of the blog, Latona says, "When a number of readers (40 out of 6 million) expressed concern about our featuring LeAnn Rimes on the cover of our October 2010 issue, I was concerned. I don't want anyone to be unhappy...I referred to words readers used ("a husband stealer", "a terrible mistake for SHAPE") in their letters to me..."
Sounds like an awkward cocktail party to me.
-- Sharon J. Yi