Jennifer Aniston Shows Some Skin on the Cover of "W"
Posted on March 10, 2010, 11:09 AM
We all know that she has a great body, but Jennifer Aniston, pictured here, never seems to tire of (tastefully) showing off her healthy skin and enviable figure.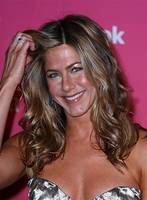 Jennifer Aniston showed off her healthy skin on the cover of "W"
The beautiful actress just turned 41, but she looks better than ever on the cover of this month's issue of "W" magazine. She graces the front alongside Gerard Butler, her costar in the upcoming comedy "The Bounty Hunter."
The two are rumored to be dating (they were spotted cuddling at The Golden Globes), and if the chemistry they exude on the page is any indication, we may be inclined to believe it.
Ironically, photographer Steven Klein, who famously shot Angelina Jolie and Brad Pitt's "domestic bliss" spread just after Pitt and Aniston split, also snapped the photos of Aniston and Butler.
Though we're happy to see that the former "Friends" star is positively glowing, we can't help but notice that she's always sporting a permatan.
We're crossing out fingers that the lovely leading lady is faking a bake, not spending quality time in the
tanning
booth!
Fans who love Aniston's style can try to steal a bit of her allure by snatching up the actress' newest offering, a
women's perfume
that is, as of yet, still unnamed.