Georgia Jagger Body Offers Swagger in Jeans
Posted on October 18, 2010, 2:05 PM
Mick Jagger's youngest offers more than denim in her latest ad campaign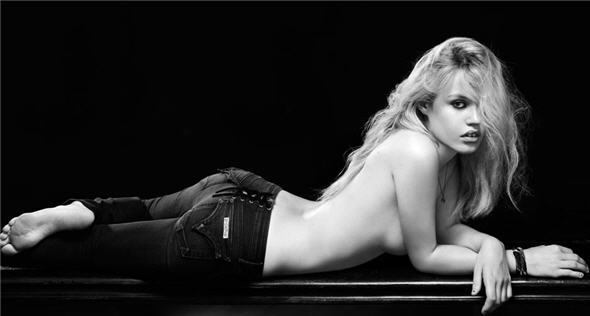 Courtest of Hudson Jeans
Papa was indeed a Rolling Stone, as evidenced by the imperfectly beautiful tooth gap on model Georgia May Jagger's face. The 18-year-old Brit beaut is garnering more attention these years, not just for her rock star royalty (the youngest daughter of Mick Jagger and his ex-wife, Jerry Hall) but for her latest ad campaign with Hudson Jeans, in which Jagger's
body
seductively works it in a pair of distressed denim.
This is Jagger's third year modeling for the jean brand. And by the looks of the Autumn/Winter 2010/11 campaign, it's her most titillating yet.
Photographed by Mario Sorrenti (well known in the fashion circuit for his nude-ish camera work for Harper's Bazaar and Vogue), the ads feature Jagger donning the slim, hip-hugging trousers with a simple black bra, as well as languidly posing topless, coupled only with her slightly parted pouty lips and gapped tooth.
So capturing was her recent campaign, Hudson Jeans Creative Director Ben Taverniti had this to say about her. "Georgia May is a true embodiment of the spirit of the Hudson brand. She doesn't try, she's just cool. She has that certain je ne sais quoi," Taverniti told Harper's Bazaar. "It's all about her genes – literally and figuratively. Our brand DNA is about being born in California but rooted in London … and Georgia's dad is Mick Jagger, British rock royalty, and her mother, Jerry Hall, is American."
Taverniti is even offering the junior Jagger a designer title. Hudson by Georgia May Jagger, due out in March, is inspired by mom Jerry Hall's vintage men's Wranglers, and, according to Jagger, "…Guns N' Roses really inspired them as well."
That certainly was enough celeb chutzpah for Harper's Bazaar, which offered the model its November cover. And with so much being added to her plate, Jagger flew her London coup (which she shared with mom) and moved to Alphabet City in New York City to continue her climb to fame, which includes fronting a beauty campaign for British brand Rimmel cosmetics, walking Chanel's resort runway and being named Model of the Year by the British Fashion Council.
It helps that Jagger's mom, a former model, also pushed the boundaries of fashion in her heyday—leaving little shock about her daughter Jagger going topless for a pair of jeans. "My mum did a lot of provocative work with [renowned fashion photographer] Helmut Newton. She understands," Jagger told Harper's Bazaar.
The only exception? Jerry Hall was never touted on billboards around the world as a topless teen. "I didn't think that it was going to be on giant billboards everywhere," confessed Jagger. "I'm sort of like, Oh, God!"
-- Sarah McClure