Christina Aguilera's New Fuller Figure - The Singer's Body Has Changed A Lot Over the Summer
Posted on September 27, 2010, 9:38 AM
The popstar showed off a much more zaftig look at a glitzy Los Angeles event.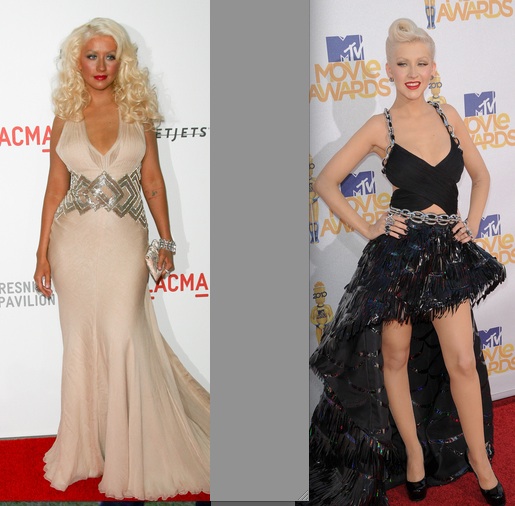 Christina Aguilera's New Fuller Figure -- 3 Months After the MTV Movie Awards
Christina Aguilera's
body
is making headlines.
The multi-platinum songbird showed up on the red carpet at Saturday night's LACMA Presents "Unmasking": The Lynda and Stewart Resnick Exhibition Gala in Los Angeles looking much more zaftig than she has in the past. In fact, you just have to look at the photo on the right, that was taken on June 6th at the MTV Movie Awards arrivals, to see that she has, in fact, packed on some pounds.
Of course, no female in the public eye can gain weight without immediately sparking pregnancy rumors. And, Christina, who's long yo-yo'd back and forth from teensy tiny to fuller figured, is no exception. She is, of course, mom to two-year old Max and the recent poundage is making people think that maybe she and husband Jordan Bratman may be expecting a brother or sister for their son.
For her part, Aguilera, who will be seen opposite Cher and Kristen Bell in November's big screen release "Burlesque," is keeping mum on the subject. And, given the fact that she plays a dancer in the movie and worked out a lot during filming, insiders are surprised that she's put on any weight at all. "It's bizarre Christina has put on so much weight as she's been doing lots of dancing and high energy work for 'Burlesque,' a source told Britain's "Daily Mail." "The whole movie is choreography and she was very active so I'm surprised she's piled on the pounds so quickly."
Only time, and eventually Xtina, will tell whether or not she's expecting a baby. But, what do you think of the new look? Think she looks sexy and healthy with all these new curves? Or, do you prefer a thinner, more slight Christina?