Miley Cyrus Reveals Her Chest Tattoo in Madrid
Posted on November 8, 2010, 12:08 PM
The erstwhile Disney darling continued to push the envelope during a stint at the MTV Europe Awards.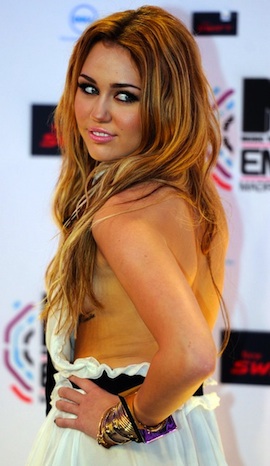 A Little Too Much Information - Miley Cyrus' Wardrobe Malfunction in Madrid, Spain
Last week Miley Cyrus, whose parents are embroiled in a bitter divorce after seventeen years of marriage, left behind the familial drama in Los Angeles for a stint in Madrid, Spain that culminated in a racy performance at Sunday's MTV Europe awards.
In typical "I'm not Hannah Montana anymore" fashion, the 17 year-old pop star, who just signed on as the lead in the upcoming big screen dramedy "So Undercover," rocked the packed house with a rousing rendition of her new single, "Who Owns My Heart?," wearing nothing but a skin-tight, jewel-encrusted, long sleeved white body suit, fishnet stockings and stiletto-heeled boots.
But that wasn't what's gotten tongues wagging today. It was her after-concert get up that has the blogosphere abuzz. Seems that the star, who'll turn 18 in two weeks, took to the event's purple red carpet wearing a seemingly sedate floor-length white lace skirt and a frilly, sleeveless, ruffled shirt. The hitch? The back of the shirt was non-existent and gaped in all the wrong places and, as Cyrus was braless, cameras were able to snap many a photo of the "just breathe"
tattoo
she had inked under her left breast last December.
We first caught site of the tat while she was wearing a bikini in Florida late last year and the words are reportedly a tribute to a dear friend who lost his battle with cystic fibrosis. And, of course, Lindsay Lohan, has the word "breathe" on the inside of her right wrist in white ink.
Comparisons between the two tabloid magnets aside, what seems to have many parents upset, is the fact that Miley seems to be growing up so quickly now that the Disney phenomenon that is/was "Hannah Montana" is behind her.
Do you think Miley's being too risqué or is she just exerting her freedom, experimenting and acting the way all teens do?