Avril Lavigne's Divorce Opens the Door for Brody Jenner
Posted on November 17, 2010, 1:42 PM
They've been canoodling for a while now but as of today, the SK8RBOI is officially back on the market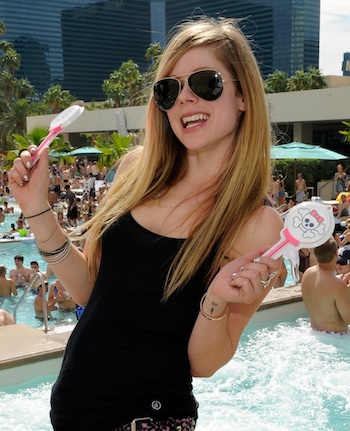 Avril Lavigne Celebrated her 26th Birthday Last Month in Las Vegas. Today, She's Divorced.
There must be something in the water. After a whirlwind of recent engagement announcements (Nick and Vanessa, Jessica and Eric, Prince William and Kate) comes two back to back divorce declarations. First, we got word this morning that
Eva Longoria has filed for divorce from Tony Parker
, and now we hear that a year after they separated, Avril Lavigne and Deryck Whibley's marriage is officially over.
The estranged pair, who'd been married for 4 years, separated last September and have made no bones about dating other people while waiting for the divorce to become finalized. In fact, Lavigne seems to have become downright smitten with resident L.A. ladies' man, Brody Jenner – and the feeling appears to be mutual.
In early July photographers snapped pictures of Lavigne's latest tattoo – the word "Brody" inked on the side of her torso. And, a week later, shots of his "Avril" emblazoned forearm made the gossip mag rounds. And, those aren't the only
tattoos
they have in common. According to "PEOPLE" magazine, they got matching lightning bolts while at a party in Las Vegas and they're rumored to share the same expletive scribbled across their ribcages. Ouch.
For his part, Whibley, the frontman of punk band Sum 41, has kept a lower romantic profile and hasn't been linked to anyone famous.
Wonder who will file/pop the question next...
--Audrey Fine