Nick Lachey and Vanessa Minnillo Announce Their Engagement
Posted on November 4, 2010, 4:17 PM
After four years together the couple prepare to say "I do"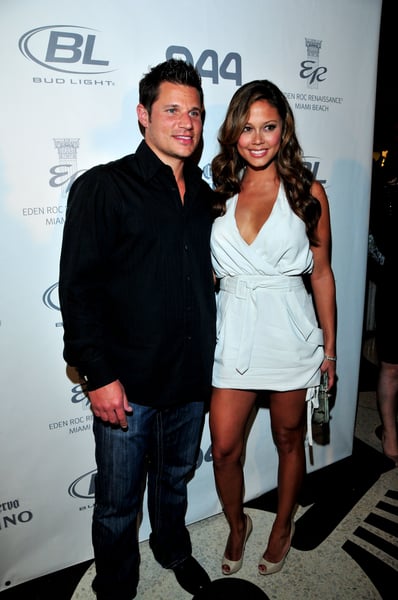 Nick Lachey and Vanessa Minnillo Announce Their Engagement
After four years of dating, musician Nick Lachey and "True Beauty" host Vanessa Minnillo are engaged.
The rumors have been swirling for a while but today, five days before their shared birthday of Nov. 9, the couple made it official. "We're excited and incredibly happy about our engagement," they said in a statement released to "US Weekly," and we look forward to a wonderful future together."
The pair started dating shortly after Lachey split with former wife, Jessica Simpson and, while they're being uncharacteristically mum on the subject of who popped the question, it's blaringly obvious that the duo is completely in love and not shy about admitting it.
"We shower together, honestly, at least twice a day," Minnillo recently told "PEOPLE Magazine" about how they try to find time to connect despite super-hectic schedules. "We both have our own shower heads so we just talk while we're soaping up and doing our hair," she qualified. "It's not a sexual thing and it's not a romantic thing, it just becomes an intimate thing."
Sounds like they've already started the honeymoon period—and good for them. We're hoping that this marriage will work out for Lachey, who has nothing but praise for his new wife-to-be. On a recent segment on "Good Day Philadelphia," he described her as "a very smart girl [who's] far smarter than I!" Of course, she's also a beauty whose brains and toned
body
have led her to host television shows like MTV's "Total Request Live" and "Entertainment Tonight."
One thing fans can bank on is that Lachey and Minnillo won't have cameras following them around as they embark on their new life together. They've decided that reality TV – an experience that supposedly put an enormous strain on Lachey's previous marriage – is not in the cards for their relationship. Guess we'll just have to watch things unfold from afar.
What's your take on the couple's engagement? And, how do you think Jessica will react to the news?
-- Sarah McClure