Lady Gaga's Meaty Cover: The Singer Shows Off Her Naked Body for Japan's Vogue Hommes Magazine
Posted on September 8, 2010, 8:32 AM
Is the singer's nude look tasty or tasteless?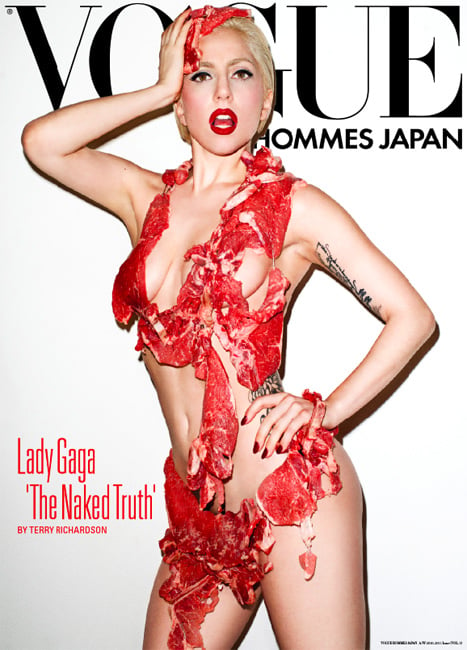 Yum or Yuck?
Soda can hair curlers and Kermit the Frog wraps aside, Lady Gaga reveals in the September issue of "Vogue Hommes Japan" a raw side of herself that most little monsters are unaccustomed to seeing. The international magazine cover reveals her standing nude, with her
body
clad in only in slabs of raw meat tied together with string (Internet wags have named it her "meatkini.") The singer poses with one hand resting on a pushed-out hip and her other atop her head -- on top of a , what else, makeshift beef beret -- and ultra red lipstick that stands out almost as much as her bloody accoutrements.
Along with the cover, photographer Terry Richardson shot an inside spread of the 24-year-old Poker Face, who, dressed as her Italian male alter-ego, Jo Calderone, offers an intimate interview inside the magazine.
Much less of a bombshell is PETA's reaction upon seeing the pop star posed in a customized steak sheath. The animal advocates group had this to say in reaction to the shot: "No matter how beautifully it is presented, flesh from a tortured animal is flesh from a tortured animal. Meat represents bloody violence and suffering, so if that's the look they were going for -- they achieved it."
Certainly a shocker for many modern-day audiences of Lady Gaga, but this isn't the first carnivorous musical display to hit the fans. Is it much of a stretch from The Beetles 1966 "Yesterday and Today" album cover, which featured the rock foursome covered in blood, meat and beheaded baby dolls?
Perhaps, while in the buff, the singer had forgotten about those Yves vegan hot dogs she recently requested while out on tour. Either way, how do you feel about the look --tasteful or not?
-- Sarah McClure