Kristin Cavallari Has a New Brunette Hairstyle Complete with Bangs
Posted on August 27, 2010, 8:06 AM
Post-Hills, the reality TV star ditches her blonde locks for something different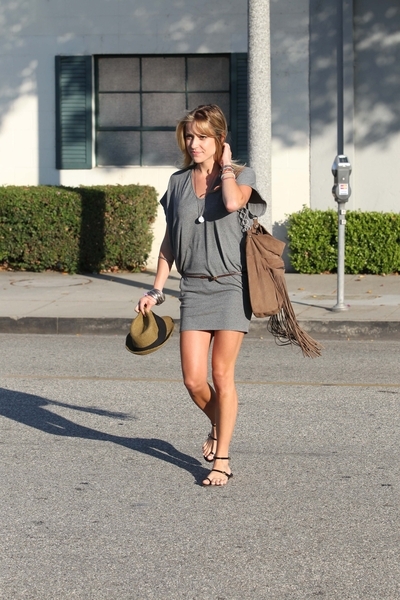 Kristin Cavallari Has a New Brunette Hairstyle Complete with Bangs
Our favorite Hillzie, Kristin Cavallari has crossed over to the dark side--with her
hairstyle
that is. Since leaving her post on the reality show, The Hills, which saw its final episode in July, the 23-year-old reality starlet has opted to shed her Goldilocks hair in lieu of a rich, browner shade. This month, paparazzo caught her leaving the Neil George Hair Salon. Could the Laguna Beach native have gotten her dye 'do, which features a darker honey blonde-brunette-ish tone, at the Beverly Hills spot? Either way, we think her salon of choice did a beautiful number weaving in her natural blonde with slightly darker blond-brown combination.
"I just dyed it!" Cavallari told People Magazine. "I was bored with my hair and it's the first time I was able to dye my hair because of filming for The Hills." Cavallari first showed off her darker side on August 11 at the Blackberry Torch launch party in Los Angeles, and later showed off twit pics of her brown-ish mane to her Twitter followers.
The former bleached blonde beauty completed her makeover with some Farrah Fawcett-inspired feathered bangs. The look faired nicely as the star got ready to promote her personally designed shoes, to be sold next year with ShoeDazzle. Profits from ShoeDazzle will directly benefit One Kid One World, an organization that works to provide an education to children in impoverished communities through the creation of academic and athletic programs. On August 23, Cavallari sported her new hairstyle, while promoting her new design at their charity event at the Chamberlin Hotel in West Hollywood.
On the nonprofit, she tweeted, "Shoe heaven. Just finished designing my shoe!!!"
In the meantime, she is even in talks about writing a book (not unlike another Hills co-star, Lauren Conrad).
On going darker, Cavallari says, "I don't think I'll be a full brunette, but I definitely want to put a little bit more dark in it. Not too much though."
Do you think K-Cav should go darker?
--Sarah McClure