Best Facials in Miami
Posted on September 20, 2010, 8:39 AM
Places to get pampered in South Florida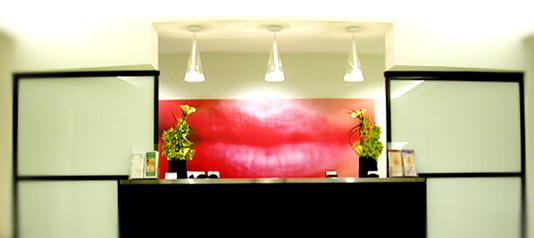 Dr. Brandt's Office in South Florida
Oh, how we love us a good facial: the end-result – when done well – is a complexion that feels baby-bottom soft, silk-meets-cotton smooth and just ooh la la sensational. But the task of securing good, rather great,
skin care
therapy can seem (and be) daunting. There are so many options: location (spa or derm office), type (oxygen, firming, hydrating), time range (30 minutes to more than one hour), leaving a girl perplexed over how to choose a skin-perfecting treatment. Enter totalbeauty.com. Here, our picks for the best facials in South Florida:
Because the weather in Florida, albeit warm and sunny, is heinously humid, achieving shine-free skin is rarity that's ridiculously-righteous to score. But, thanks to Spa E on Lincoln, a non-greasy complexion is attainable, kudos to their signature Oil-Free Facial. For $90, enjoy a relaxing, deep-cleansing and pore de-clogging facial that utilizes Repechage products to keep oil at bay, gunk and dirt away. The facial minimizes pores, too (and tiny pores mean less of a slick, shiny sheen to skin). After, your therapist may recommend products to purchase for use at home; we recommend them, again to help maintain the look and feel of your newly de-slicked skin.
A good derm is on high demand in Miami; so to find one who offers a double-duty service (translation: medically treats your skin woes and provides spa-grade treatments to boot, too) under one roof is one to keep. Welcome powerhouse Dr. Fredric Brandt and his team of talented aestheticians; in less time than it takes to get a manicure (really), you can receive a Beta Peel, Brandt style. During this quickie treatment, beta hydroxyacids work overtime to remove any dryness, dulling skin cells to reveal refreshed, renewed, radiant skin. Walk away looking younger, healthier and simply fresher – in a flash. No downside, no downtime, just results that equal radiance.
For a little bit of Bliss, visit the South Beach location, which boasts equally-fabulous treatments as its sister locations across the nation, from NYC to Chicago, Scottsdale to Atlanta – but, aha, typically better weather. A Miami favorite? The Triple Oxygen Treatment: a celeb-adored facial that comes complete with an extraction oxygen wrap, application of oxygen cream and mask, an energizing enzyme pack and vitamin spray to finish. It's like infusing your skin with air (aka: oxygen) to hydrate and recharge. Amazing before a big event or party, date or even your wedding day. Though the price-tag is on the steeper side ($160), the payoff is pretty surreal, swear.
A famous soul once said: the eyes are the windows to one's soul. If you believe it as such, the skin around the eyes should be treated to some royal pampering, too, right? Indeed. At the Standard Hotel Spa, book an appointment for any facial, then add on the Revital-Eyes treatment for $40 more (this facial is eyes-and-lips specific). The tech begins by exfoliating the two areas, and then hydrates using gentle massage to boost circulation and blood flow to eliminate dark circles and puffiness. The treatment also targets fine lines and wrinkles. A bonus cooling aloe vera and cucumber mask further energizes the areas. Lips look fuller after, eye skin appears smoother and softer.