Where to Get the Best Facials in Dallas
Posted on September 9, 2010, 7:15 AM
The top places to get a clear complexion in the Big D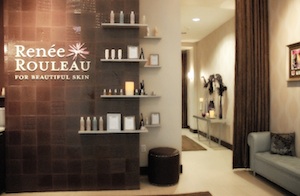 Renee Rouleau in Dallas
Boasting good skin is one of the few things in life you really, in all honesty, can't fake. If your skin looks "good" (meaning, blemish free, even toned, smooth and soft), you can easily walk out the door sans makeup and feel incredible – on top of the world, really. But when your face falls short and your complexion lets you down, you're likely left with a feeling of frump. Why frequent facials (and trips to the derm, of course) are paramount. No need to go crazy – we don't suggest you make it a weekly venture, but to experience a goal-oriented (translation: a facial with results on the back-end, whether it's to help firm, lift, hydrate, clear up skin) facial every six to eight week is rather wise. Why we did our research in Dallas to find spas and facialists with one thing on the mind: beautiful, smart and savvy
skin care
. Here, our favorites:
If achieving smooth, soft skin is your focus, step into one of Legacy Salon & Day Spa's seven locations (yes, really) in the metro area (from Plano to Keller, Forth Worth to Arlington) for an "Advanced Exfoliating Facial." During this treatment, dry, dull skin is sloughed off to reveal a brighter, healthier, hydrated complexion, thanks to a mild blend of AHAs (alpha hydroxy acids). Bonus: the polishing process helps to prevent fine lines and de-clog pores. Price tag: $80.
If hormonal (think: time of the month) breakouts give you anxiety, visit Mapleshade Spa for an 8 Greens Phyto-Estrogen Facial. Sounds complicated, right? Wrong. During this 60- or 90-minute treatment (choice is yours), skin is quenched and drenched in phyto estrogens to plump and firm skin, as well as rebalance hormonal indifferences in the skin. Plus, the spa itself is peaceful and quite quaint, set in an old Victorian-style home. Travel a short distance from the city and feel as though you are in the middle of the country. Price tag: 60 minutes, $80; or 90 minutes, $100.
If you spend too much time outside and have seen, sadly, the effects of sun damage and environmental toxins, book an appointment at Exhale Spa for the G.R.N: Designed specifically to combat the adverse effects of the environment, this 30-minute facial is both highly effective and eco-conscious. The synergy of the skin care products and exclusively formulated essential oil blends gently detoxifies and corrects imbalances for a radiant complexion. Bonus, included in the price is a purifying Thai foot therapy, which manipulates energy points in the feet to promote relaxation and improve circulation (think: reflexology). Price tag: $90.
If a mini "lift" is what you're looking for, schedule a consult at Renee Rouleau; the facialist there might likely suggest a European-style Bio-Visage Lifting Facial. This remarkable French skin rejuvenation treatment is considered a non-surgical face lift that gives almost instant, visible results to tighten, tone and firm aging skin. Low level electrical current impulses are used in conjunction with specialized products to improve muscle tone in the face and neck, tighten and lift jowls, soften wrinkles, and restore the glow of youthful skin...after just one treatment. This painless, non-invasive facial has become a popular alternative to cosmetic surgery in Europe. Worth a try in the states? Price tag: $215.