Heidi Montag Going Under The Knife Again: "I Feel Trapped in My Own Body!"
Posted on August 25, 2010, 11:56 AM
Reality TV star turned plastic surgery enthusiast turned poster child for Hollywood gone wrong, Heidi Montag, is now saying she wants out of her Barbie body.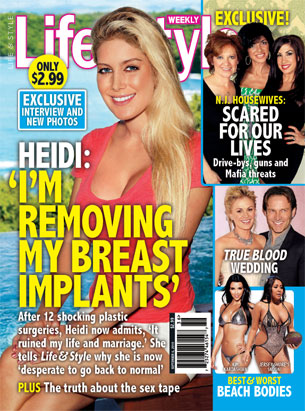 Photo Courtesy of: Life & Style
Reality TV star turned
plastic surgery
enthusiast turned poster child for Hollywood gone wrong, Heidi Montag, is now saying she wants out of her Barbie
body
created by recently passed Dr. Frank Ryan. Owning the record of the highest number of plastic surgeries done in one sitting, the 23-year-old had two breast augmentations, a nose job, liposuction, mini brow lift, botox, nose job, fat injections, chin reduction, buttock augmentation and her ears pinned back.
Just a week after her plastic surgeon
Dr. Ryan passed away in a freak car accident
, Montag is now saying she wants to take out her G implants after getting them in late last year. It's been more than nine months since her surgery on November 20th, but the reality TV star says she's still in pain.
"I have major anxiety about it. I was taking painkillers but they weren't working so I stopped. It hurt either way," she said. "I'm desperate to go back to normal," she confides to
"Life & Style"
magazine. "I'm downgrading and going a little smaller, to a D or a double D."
The G-sized breasts prevented her from hugging anyone, wearing anything other than custom-made clothes and even going to the gym.
"I'm obsessed with fitness but it's impossible to work out with these boobs," Montag said. "It's heartbreaking. I can't live an everyday life."
Montag is looking for another plastic surgeon in South America to replace Dr. Ryan, but she fears nobody can undo Dr. Ryan's work.
"I feel trapped in my own body," Heidi said. "There's just no fixing it. Dr. Ryan knows the work he did, he knows everything."
Montag underwent media fire after revealing her new body and face. With 12 cosmetic procedures done, she became a 21st century embodiment of Mary Shelley's Frankenstein. Using plastic surgery to achieve the idealized hourglass figure and face was for the first time, in a long time, being questioned.
She says her dauntingly huge breasts ruined her life and marriage. She filed for divorce from husband Spencer Pratt earlier this month, which is scheduled to be finalized come Valentine's Da y (ouch). However, just today, TMZ caught the supposedly estranged couple
together
in Costa Rica. Somebody tell me
what's going on?!
It's a mystery good enough for the "Scooby Doo" gang. Are they or aren't they together? Was everything a scam? Is Heidi really the one under the Spencer Pratt mask who's releasing her own sex tape by threatening "Heidi" in order to churn up some more media attention (and cash)? Having been spotted together in Costa Rica, it's unclear whether the two are still together and contriving another attention-whore plan or is Spencer truly crazy and Heidi just the victim that wants to get out?
We may never know whether Montag only got the clownish breasts to be sensational knowing that the news would be just as huge when she decided to take them out. The world had never met two people more willing to screw up their lives for fame.
Scooby Doo, where are you? Somebody solve this mystery!
By Sharon Yi