Did Mario Lopez Persuade his Girlfriend to get Plastic Surgery?
Posted on April 12, 2010, 10:31 AM
Mario Lopez looks like a great guy, but new reports circulating suggest that the actor pressured his girlfriend, Courtney Mazza, to get plastic surgery and lose weight before the couple's photo shoot on the beach.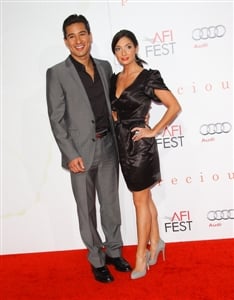 Mario Lopez encouraged Courtney Mazza to have plastic surgery.
Lopez met Mazza when the two appeared together in "A Chorus Line" on Broadway in 2008, and sources report that the beautiful brunette, who was engaged at the time, immediately fell head over heels for the former star of "Saved by the Bell."
Unfortunately, it seems that Lopez needed Mazza to make a few improvements before he could be as equally smitten.
"He encouraged her to work out with a trainer every day," an anonymous source told Page Six. "She underwent a boob job and liposuction last spring. Once her
body
was perfect, he arranged for them to be photographed on a beach."
Yikes! Though exercise is healthy, telling your partner they need
plastic surgery
is a little too much, right?
Mazza is currently pregnant with the pair's child. We hope this is all just gossip, because this girl was absolutely gorgeous before she started dating Lopez!