Top Three Facials in Chicago - Get a Gorgeous Complexion from These Skin Care Gurus
Posted on June 21, 2010, 5:46 PM
Amazing Complexion Perfectors, from The Gold Coast to the Loop, these three Chicago salons will give you healthy skin that looks gorgeous in no time!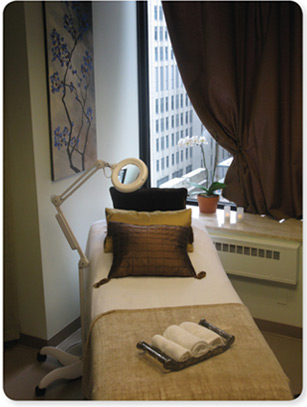 True Skin Care Center in Chicago
Once was, facials for
skin care
purposes were for poking, prodding, picking and pestering. You would enter for some much-needed blackhead retrieval, and exit red, hot and bothered. Money spent, time allotted and a face full of fuss. It likely wasn't fun; it also wasn't relaxing. But, hey, now you're a big girl – and you get it: facials are fabulous. When done correctly, a post-facial complexion is more radiant, vibrant and renewed. Smoother, softer, more supple. Especially, when you consider the newest breed: those intended to hydrate, brighten and banish blemishes. Leave the picking to your teenage sister and head to one of these great locations for a facial worth fawning over.
Skin Authority Transformation Facial at The Spa at The Dana Hotel: This multi-action treatment uses the exfoliating power of glycolic acid to open pathways and deliver vitamin-rich nutrients deep down where active cell production takes place. Translation: the dry, dull top layer of your skin instantly disappears to reveal new, refreshed, softer skin, just like that. And, thanks to those mentioned nutrients, your skin is given what it needs to regenerate, and to protect against free radicals that contribute to cell degradation and premature aging. It's the ideal facial if you have sun damage or uneven skintone, or if you are just looking for a nice pick-me-up – that can be finished in 30 minutes (an anomaly in the world of facials). The best part: without pushing product on you, the aesthetician will give you a personal, customized, step-by-step regime for maintaining that gorgeous glow. For more information, visit skinauthority.com or call The Spa at The Dana Hotel, 312-202-6000.
Oxygen Facial at The True Skin Care Center: We are big fans of derms and plastic surgeons who also specialize in treatments. Why? These dogs know their way around the table. They are smart about skin, sure, but they also know exactly what ingredients do – really – and how they can best benefit your complexion. Why we're obsessed with Dr. Steven Dayan, M.D, a premiere Chicago plastic surgeon with a treatment-focused, in-house spa to boot. Our favorite at Dr. Dayan's office: the Intraceuticals facial, also called the oxygen facial. How it works: moisture, vitamins, and antioxidants
Health & beauty
are infused directly into the skin via cooling, calming topical hyperbaric oxygen. It's 100% suitable for every skin type, and the result is a luminous, re-hydrated and plump complexion that makes you look totally renewed, and even over time, younger (sans going under the knife). Although Dr. Dayan recommends getting the oxygen facial in a series of at least six (one every six weeks, give or take), we loved the instant results too. For more information, visit http://www.drdayan.com/procedures_3.html.
When it comes to
body care
this is where it's at: Backcial at Bliss Spa at the W Hotel, Lakeshore Drive: Zits on your back (aka: backne) is ick. Hate those pesty pimples; dread the bumps and whiteheads; but unfortunately, there's no real disguising backne. If you exercise regularly or sweat sufficiently, you'll find this "facial" for your back simply the best. Although the focus of the therapy is your back and chest, no stress – your face will get some TLC too. The deal: deep cleansing, exfoliation, and hydration for the zone in need. Your back and chest will look dewy, fresh and blemish free, for sure. We think it's great for you – but also super for your dude, too. During summer months, it's clearly a must. For more information, visit blissworld.com.