Catherine Zeta Jones' Favorite Skin Care Products and Homemade Healthy Skin Tips
Posted on May 25, 2010, 9:01 AM
How does the Welsh beauty stay looking so young when she's so busy? Could it be the products she promotes or some down-home tips she's sharing?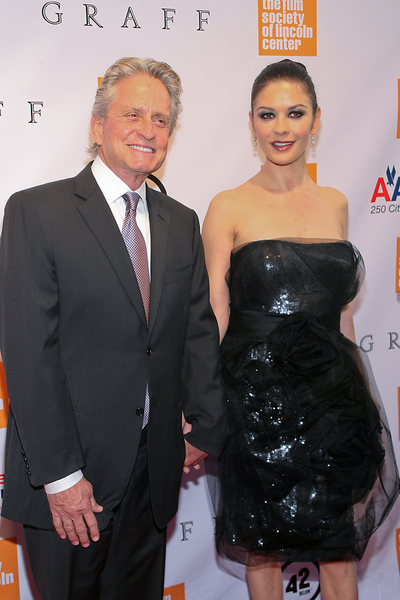 Catherine Zeta Jones' Favorite Skin Care Products and Homemade Healthy Skin Tips
Catherine Zeta Jones and her hubby of ten years, Michael Douglas, have been making the New York social scene in recent days with 40 year-old Catherine looking younger and even more radiant that usual. (65 year-old Michael? Not so much)
The pair headed to NYC's Alice Tully Hall on Monday night so that Michael could receive the 37th annual Chaplin Award from the Film Society of Lincoln Center for his 30 years' work behind and in front of the cameras. And, as expected, there wasn't a dry eye in the room when his father, venerable actor Kirk Douglas (93), handed his son the statue.
Catherine, who's been living in NYC instead of in the family's home on Bermuda since debuting on Broadway in "A Little Night Music" opposite Angela Lansbury last November, raised a few eyebrows in her black sequined Marchesa gown. Seems some fashion critics think it looks a little like a garbage bag. (And, gasp, it was from last season!)
But how is it that the multi-talented singer/dancer/actress/mom-of-two-boys can manage to look so great and so well rested even while performing in front of a live audience 8 times a week?
Well, it's no secret that the Welsh beauty has long been the face of Elizabeth Arden and that she purports to swear by its Prevage and Intervene product lines.
Here's some background...IN 2005, the prescription-stregth Prevage MD was released by Allergan, the same peeps who bring us Botox, and it's said to protect the skin from free-radicals and help correct fine lines and wrinkles.
Then, Elizabeth Arden joined forces with Allergan to develop an entire line of skin care anti-aging treatments. The night cream, which contains a topical antioxidant and loads of vitamins A and E is a fan favorite but will run you about $125.00 for 1.7 ounces.
Intervene, like Prevage, boasts an entire line of anti-aging products designed to help repair the skin and offset the wrinkles and sagging skin. The Oscar-winning beauty and her flawless (if-not-Photo-Shopped) skin can be seen in numerous ads for the line in magazines the world over.
Of course, Catherine doesn't get paid to endorse some of her other skin care regimens so they're not as highly publicized. As she told Interview magazine on the eve of her 40th birthday last year, she creates her own scrub to help banish lines and lackluster skin. "I rub a mixture of honey and salt all over my body to moisturize and exfoliate. You wash it off and your skin is gorgeous."
And, like any good Brit, she has a fondness for a good lager. "I condition my hair with honey and beer. I smell like the bottom of a beer barrel for days afterwards but it's very good for the hair."
Do you think that celebrities really use the products they endorse or do they just pocket the fat check and use whatever they want?