Amy Winehouse Debuts Healthy Skin, Finally
Posted on March 11, 2010, 2:34 PM
Is Amy Winehouse finally getting her stuff together? The soulful songstress, who has battled a drug addiction, was recently spotted with healthy skin and a little meat on her bones. If it wasn't for her beehive hairstyle, she may have looked like a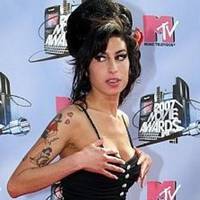 Amy Winehouse showed off her healthy skin in London.
The Rehab singer, pictured here at a previous event, who in the past was bordering on emaciated and had problem skin, was looking good while out and about in London earlier this week. And, she was even seen purchasing a large bag full of vitamins and healthy food!
What gives? We're guessing that Winehouse is preparing for her upcoming nuptials to her ex-husband, Blake Fielder Civil. Even wacky Winehouse wants to be beautiful on her wedding day.
Since we love the singers work, we're happy to see that she's taking care of herself. We just hope that she ditches the crazy
hairstyle
before slipping into her wedding dress.
Winehouse and her fiancé have both been in and out of rehab and have had a torrid on-and-off again relationship since they eloped in Miami in 2007.