Natasha Bedingfield's Flaunts Mohawk Hairstyle, Dramatic Makeup in New Video
Posted on October 20, 2010, 11:19 AM
The British pop star's new video boasts an entirely new look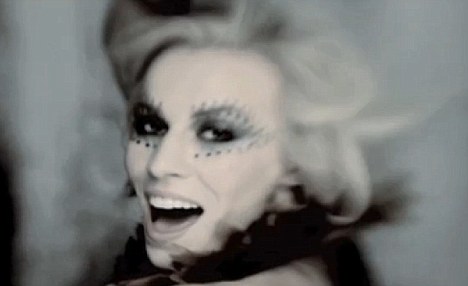 Natasha Bedingfield's Flaunts Mohawk Hairstyle, Dramatic Makeup in New Video
"Strip Me," the second single off of Natasha Bedingfield's new CD of the same name, won't hit shelves till November 9th, but a clip of the upcoming video is already causing a stir.
In the vid, the 28 year-old British pop star, who first burst on to the American music scene when "Unwritten" became the most played song on radio in 2006, sports a mohawk
hairstyle
in some scenes and edgy, dramatic
eye makeup
, including, as you can see in this still, tribal-like dots, in others.
This is definitely a new look for the Grammy nominee who was typically much more sedate in her style till now. Maybe she was looking to shake things up. She's certainly pursuing interesting ways of promoting her new record - it'll be featured in Indigo boutique hotels and the single currently plays during the trailer of the upcoming movie, "Morning Glory," an upcoming comedy starring Diane Keaton, Harrison Ford and Rachel McAdams.
What do you think of Bedingfield's new look? Think it's an attempt to "Gaga-fy" herself? Or, is it just an attempt at something fresh and new? You be the judge!