Taylor Momsen Takes the Red Eye to Hollywood
Posted on October 27, 2010, 2:59 PM
Is Taylor Momsen trying to reboot the life of Britney Spears with her eye makeup?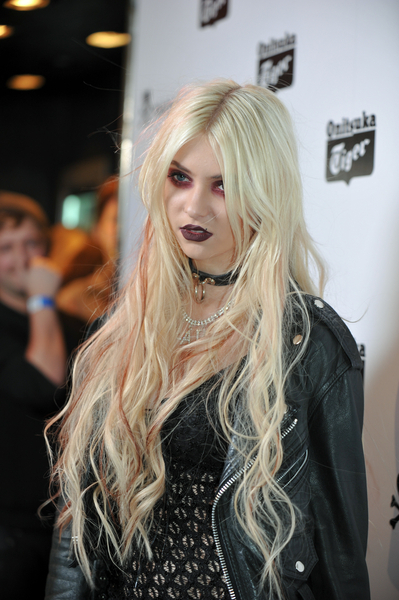 Taylor Momsen Takes the Red Eye to Hollywood
She may not be old enough to buy porn, but that doesn't stop Taylor Momsen from behaving as though she's starring in one heck of a porno movie. And based on her recent appearance at the Tokidoki and Onitsuka Tiger sneaker launch party in Hollywood, Momsen now wants to offer her own red light special à la freshly crimson-painted peepers. Perhaps, Momsen was getting tired of the Panda jokes. Regardless, this wasn't the actress attempting to impersonate the Corpse Bride of Chucky for Halloween. Nope, this was just Taylor being Taylor.
That fashion sense includes showing off her new red eye
makeup
and practicing her peep show with much of her still underage
body
that it would make Britney Spears panties Rolling Stone cover look downright puritan.
The launch party had the Gossip Girl star-turned-wild child touting dark red lips, a black leather choker, blingy necklace that read 'slave,' red
hairstyle
extensions, and some serious 17-year-old 'tude. She coupled her Marilyn Manson-inspired look with a risqué outfit that covered—a word Momsen takes lightly—her body in textured, flowery lace stockings, a leather jacket and towering, buckled biker girl boots.
The outfit, which any mom could be proud of, was similar to the one she sported on the November cover of Revolver magazine. On it, Momsen plays with a few different accessories like a thigh holster and a pair of guns. And to add salt to the wound of every concerned mother, according to Revolver, Momsen offers some unsolicited insight on intimacy at her age.
While former Raccoon eyes continues her never-ending attempts to push the so-called envelope (this includes flashing her pair this week for a New York audience), we hope she experiments with a new—dare, we say challenging—direction that includes dressing better and avoiding cheap shock value through a pair of stripper stilettos and a junkies use of mascara.
Do you dig Momsen's racy flair or conjunctivitis eye makeup? Is this angst teen phase of hers passing anytime soon?
-- Sarah McClure